Hello and Happy New Year!
QmidiCtl 0.5.3
(
early winter'19
) is out!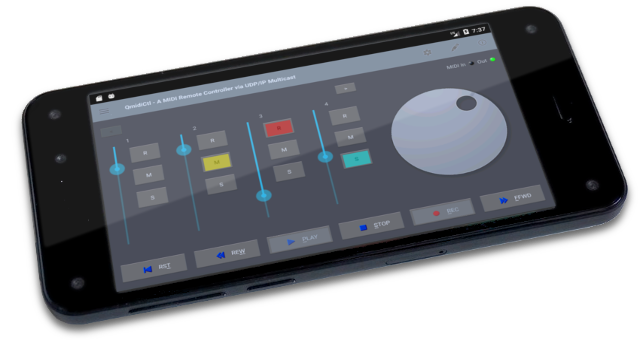 QmidiCtl
is a MIDI remote controller application that sends MIDI data over the network, using UDP/IP multicast. Inspired by multimidicast (
http://llg.cubic.org/tools
) and designed to be compatible with ipMIDI for Windows (
http://nerds.de
).
QmidiCtl
was long ago designed for the
Maemo
enabled handheld devices, namely the late
Nokia N900
and promoted to the
Maemo Package
repositories. Nevertheless, QmidiCtl may still be found effective as a regular desktop application and recently as an Android application as well.
See also:
QmidiNet
- A MIDI network gateway via UDP/IP multicast.
Website:
http://qmidictl.sourceforge.net
https://qmidictl.sourceforge.io
Project page:
http://sourceforge.net/projects/qmidictl
Downloads:
http://sourceforge.net/projects/qmidictl/files
- source tarball:
AppImage
package:
An(other) Early Summer'18 release
):
- Added proper display names to Command and Control Type entry fields on Configure dialog (ie. MIDI controller assignments dialog).
- Old deprecated Qt4 build support is no more.
- AppData/AppStream metadata is now settled under an all permissive license (FSFAP); also updated to be the most compliant with latest freedesktop.org specification and recommendation.
License:
QmidiCtl
is free, open-source
Linux Audio
software, distributed under the terms of the
GNU General Public License
(GPL) version 2 or later.
See also:
http://www.rncbc.org/drupal/node/1975
Enjoy && have fun.
--
rncbc aka. Rui Nuno Capela